Tomorrow (March 28), Ice Warehouse will ship out the next generation of Reebok skates:
the Reebok RibCor Pump™ Ice Hockey Skates
. As the predecessor to the
2013 top-of-the-line Reebok 20K
, the Reebok RibCor will headline the
new Reebok Pump™ line
, followed by the
Reebok 30k skates
and the
28k skates
.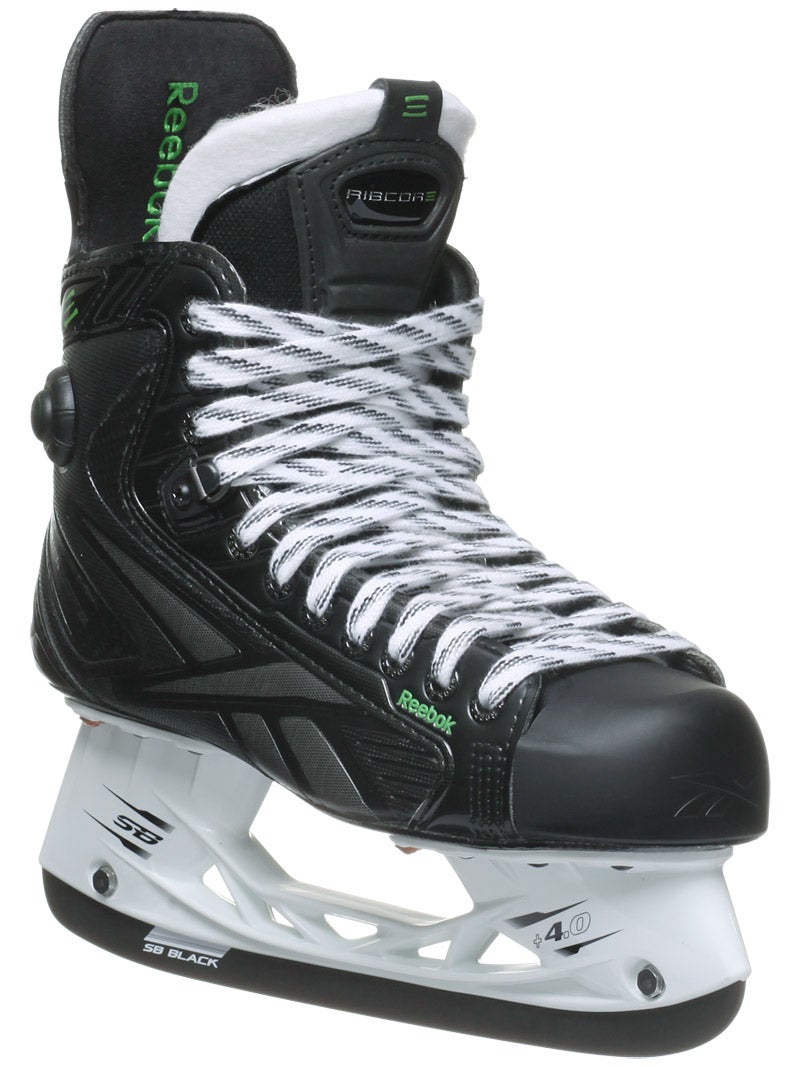 Reebok RibCor Pump
Let's take a quick look at the new Reebok RibCor. The first thing that you will notice with the new skate is the new blacked-out look. Traditionally, the
Reebok skate line
has been known for its green pump with the light grey Reebok logo along the side of the skate, not to mention "traditional" colored steel.
Steel + Holder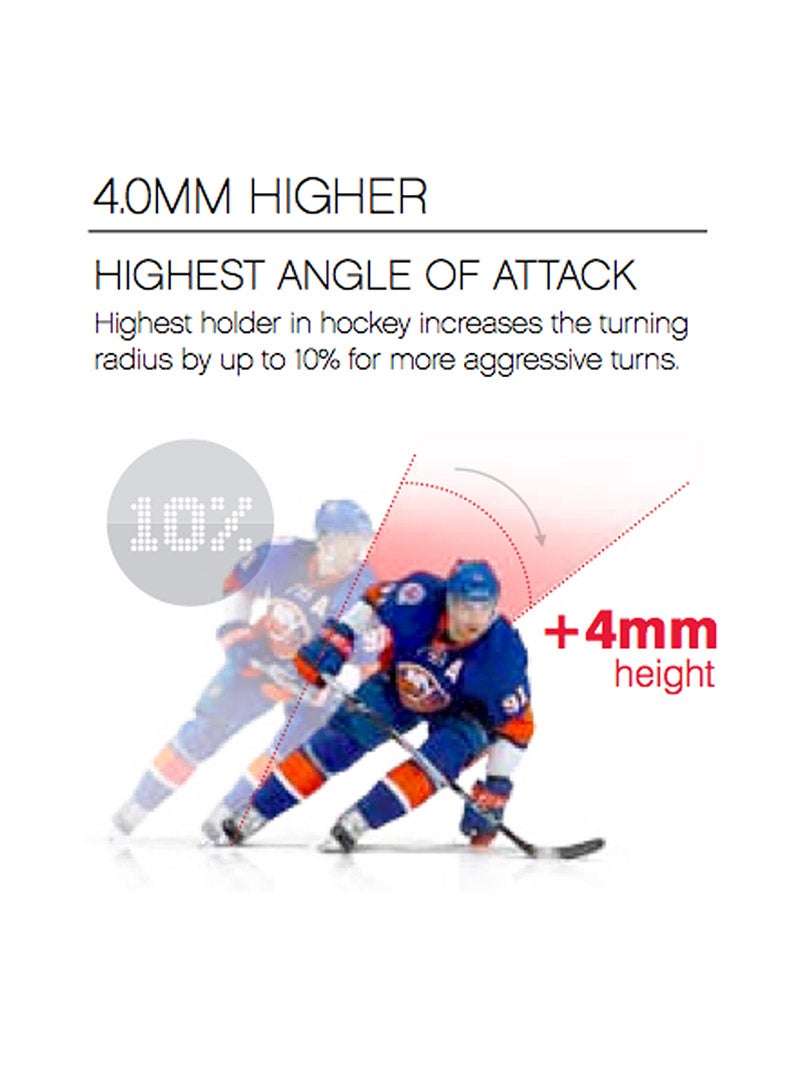 The black steel has been treated in order to maintain consistency and improve edge-life. The treatment makes it corrosion resistant to keep the steel from breaking down prematurely. These are held in place by the Speed Blade 4.0 Holder which sits 4mm higher than other Reebok holders. While 4mm may not seem like a
huge
difference, it increases the potential turning radius by 10% so that a player can turn more sharply without leveling out.
Outsole
The full carbon fiber outsole provides excellent response and stiffness while still maintaining its light weight. It comes fully equipped with vent holes in order to dry the skates quicker.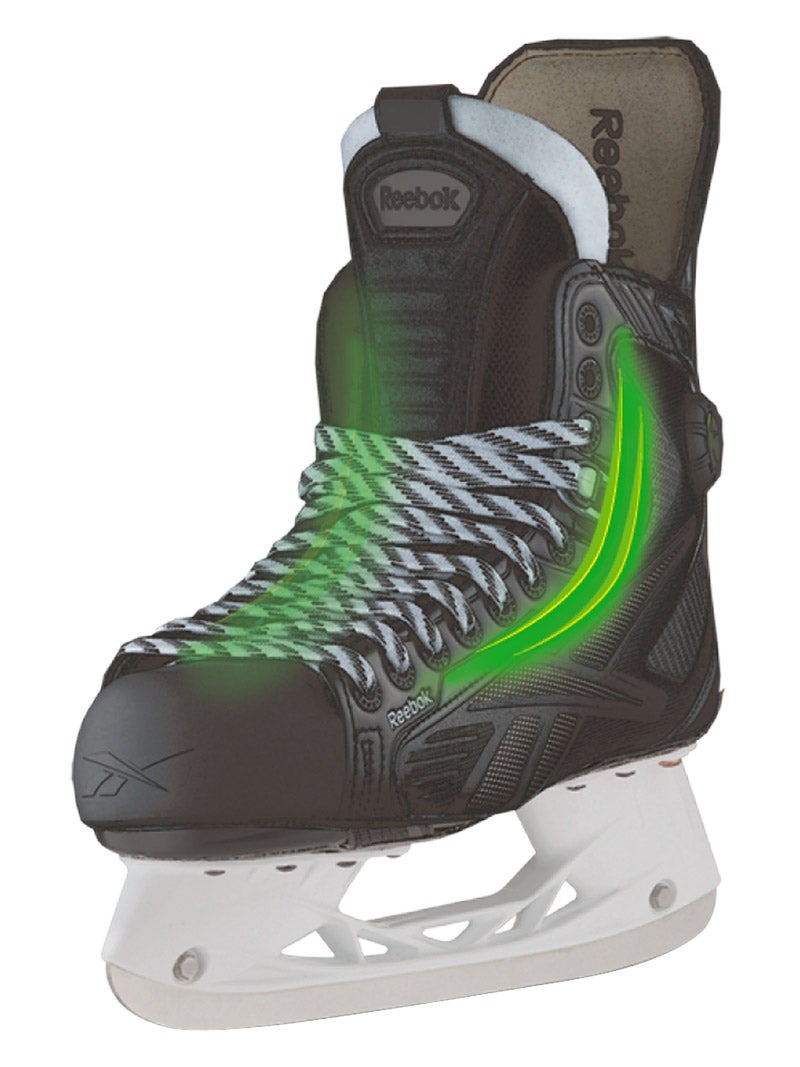 Quarter Package
Reebok is calling their quarter package the RibCor Pro, which uses an EPP Foam Core. The Reebok RibCor skates get their name from the Pro Rib reinforcement that runs along the side, just south of the eyelets (shown in the picture to the left). This serves to stiffen the skate as well as maximize the energy transfer from each stride. The skates are fully thermoformable for the custom fit. The pump, of course, provides comfort as well as provides forward flex, heel lock, and ankle support.
Liner
The Dual Zone liner with Clarino gives the skater a lot of comfort and support. The hydrophobic properties of the liner keep it drier than most skates.
Fit
The Reebok line has a medium-high volume, medium-wide heel pocket, forefoot and toe box.
Conclusion
The
RibCor, 30k, and 28k skates
launch Friday, March 28 and will be available at
Ice Warehouse
.