Here we are, right in the middle of summer and we've made it this far without the NHL or your competitive hockey season… For a lot of us, it has meant countless trips to the golf course, hours on hours of NHL '14, beer league hockey games, thumb twiddling, and work. As I'm writing this during the latter, I'd like to pass along some tips for how to pass the rest of the off-season productively.
1. Growing up, one of my buddies had a net and SportCourt in his driveway. The net was backed up by the garage door and the garage door initially worked before he set everything up. We used to go out there, throw the shooter tutor on and play a game we called "5 corners." While trying to pick corners, often our shots sailed high or wide and nailed the garage door over & over & over. Eventually the automatic garage failed and the door itself stood there battered and bruised. It looked like Phil Kessel had a go at it with his axe. There was also a broken window incident, but it wasn't me
.
Available at
http://www.icewarehouse.com/descpage.html?pcode=EZGOALCOMBO
The off-season essential here is something my buddy didn't have (besides foresight and accuracy). I'll let the picture speak for itself. Unless your shot is super incredibly inaccurate, the
EZ Goal with Backstop and Targets
is a solid investment to protect anything that you and your neighbors may not want struck by errant clappers.
2. The next essential goes hand in hand with the net. When you practice your shooting, you're going to want to use your usual composite stick, but you definitely don't want to wreck your blade. Sport Court tiles work perfectly and are great because you can customize sizes and then break them down for storage. IW carries a
Mylec Training Mat
which is essentially SportCourt. Other options include a variety of shooting boards from
EZ Puck
and
Skill Pad
. These surfaces slide very well and simulate the feel of ice nicely, and some come with the option for one timer bands.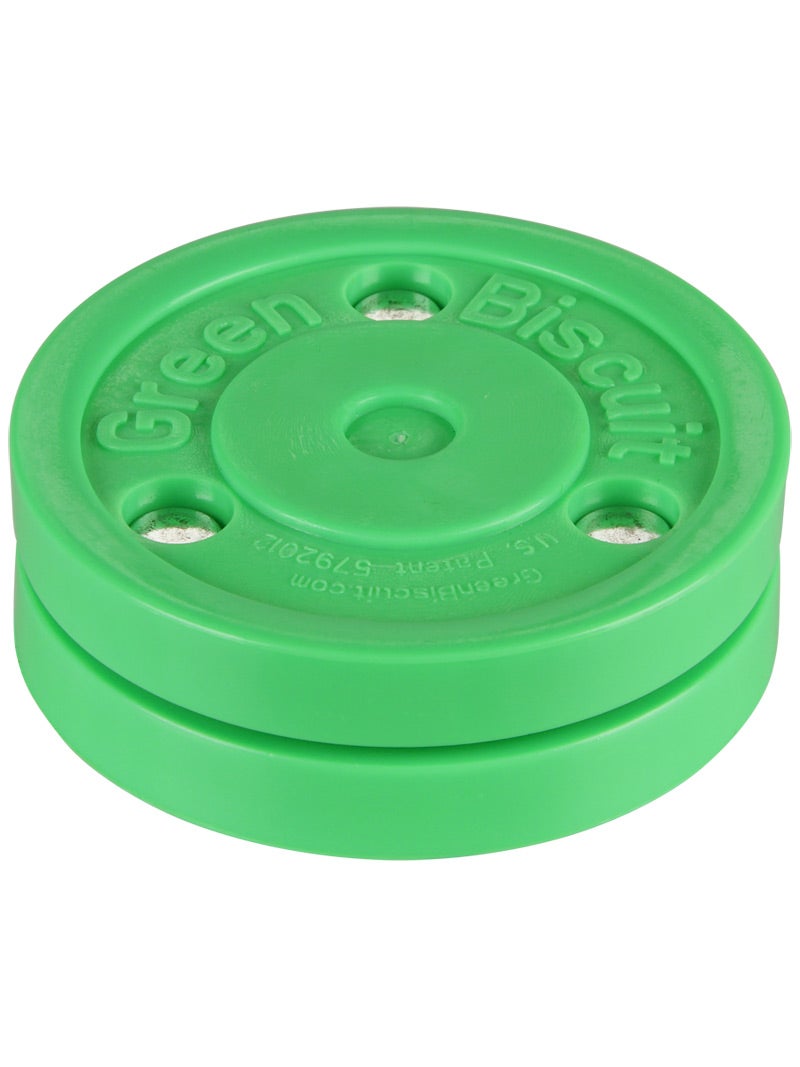 3. Ok, if you have tried to stick handle in the street with a puck… It just doesn't work. There's skipping, jumping, and all sorts of movement with normal pucks on rough surfaces. I highly recommend trying out the
Green Biscuit Training puck
. The design keeps the puck level and absorbs the vibration to keep it from jumping, which makes it perfect for stickhandling and passing. For shooting, the
Green Biscuit Snipe Training puck
works best.
4. It's summer time and in a lot of places it's decently warm out. The off-season is an awesome opportunity to train and prepare for next season. Recently Bauer released their apparel and equipment with 37.5 technology
(check out our blog on how 37.5 technology gets the job done)
. If you didn't want to read the blog, long story short, the fabric absorbs the sweat off of your body and the technology helps evaporate the moisture from the fabric. For training, the
short sleeve shirt with 37.5
works the best along with the
37.5 compression shorts
and
37.5 training shorts
.
5. Creativity: Granted, this sounds cheesy and yes, it is. Whatever you're doing to keep your head, mix it up and have some fun. Example: A few guys from IW grabbed some SportCourt Tiles and a boogeyboard to set up a
Saucer Station
at the beach and made a day of it. Confession about the below picture that we posted to our social media a little while back (actually make that a few confessions): the
original sauce picture (click to see
) was not this perfect. (Un)Fortunately, the IW tattoo isn't real, Jake's sauce was SLIGHTLY brutal, and little dogs have no place in our picture.
All of these essentials, even creativity, are available at
Inline
&
Ice Warehouse
. We sincerely hope that you remain sane for the remainder of the off-season.
<< Mid-Kick Sticks Comparison