Alkali
, who just recently made their debut into the roller hockey world, is taking it by storm with their new products that are built specifically for what roller hockey players want. Last year, they released the
Alkali CA9 RPD
roller hockey skate, which ended up being one of the most popular skates on the market. Now, Alkali teamed up with
Labeda
and constructed the
Alkali RPD Max
, which has some great technologies that we're going to take a quick look at.
Alkali RPD Max Roller Hockey Skate
Starting off with the construction of the boot,
Alkali
created the Hyper Light Quarter Package, which is made from high quality EPP Foam and gives the boot great rigidity for maximum energy transfer while keeping the skate super light. Comfort is huge when purchasing high quality skates, so Alkali widened to forefoot by 2mm, giving the player the best fit. The Pro 9mm While Felt Tongue is very flexible so you can give it some flop or slip it underneath your shin. Either way, it is perforated so you get good airflow. Another cool feature we see is the liner has anti-slip properties integrated into it, so while being hydrophobic, your foot stays dry and doesn't move around, giving you a great fit. The high density metatarsal guard protects the top of your foot from pucks.
But the bread and butter of this entire skate is the construction of the full carbon composite outsole and the
Labeda
Movement Magnesium Chassis. Alkali and Labeda teamed up to change the way a player feels when they slip on their skates. Their mission: give the player a lower center of gravity with a tighter turning radius. And they did just that.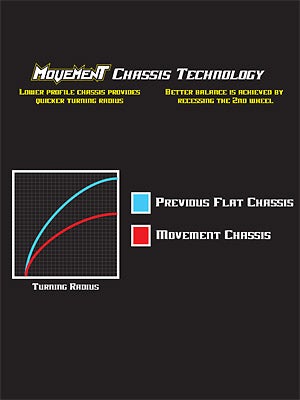 Results of the Movement Magnesium Chassis
Now how they achieved this was quite simple really; recess the second wheel to drop the front of the skate down, giving the player better balance and a more efficient power transfer. On top of that,
Alkali
outfitted this chassis with all 80mm
Labeda Addiction (XXX) wheels
and
Swiss Lite 608 Bearings
, giving the player the best grip possible and making skating easier with less friction when the wheels spin. So now that you've been awed by these sweet skates, you can pick up these beauties at the
Inline Warehouse
!